Are You Ready for the Next Disaster?
Harris County Recovers is an initiative of Harris County Long-Term Recovery Committee working to increase access and awareness of disaster recovery resources. The Harris County Long-Term Recovery Committee is a collaborative network of nonprofit, faith-based, and governmental organizations that address the long-term needs of Harris County residents following a disaster.
To learn how you can get ready, get help, or get involved, please explore the following pages. 
Get Ready
Learn ways to actively prepare yourself, your family, and your home for a disaster.
Get Help
Learn about the different resources available during or immediately after a disaster.
Get Involved
Learn how you can help community members in need in the aftermath of a disaster.
Harris County
Long-Term Recovery Committee
Formed in 2001, the Harris County Long-Term Recovery Committee (HCLTRC) is a collaborative network that addresses the long-term needs of Harris County following a disaster.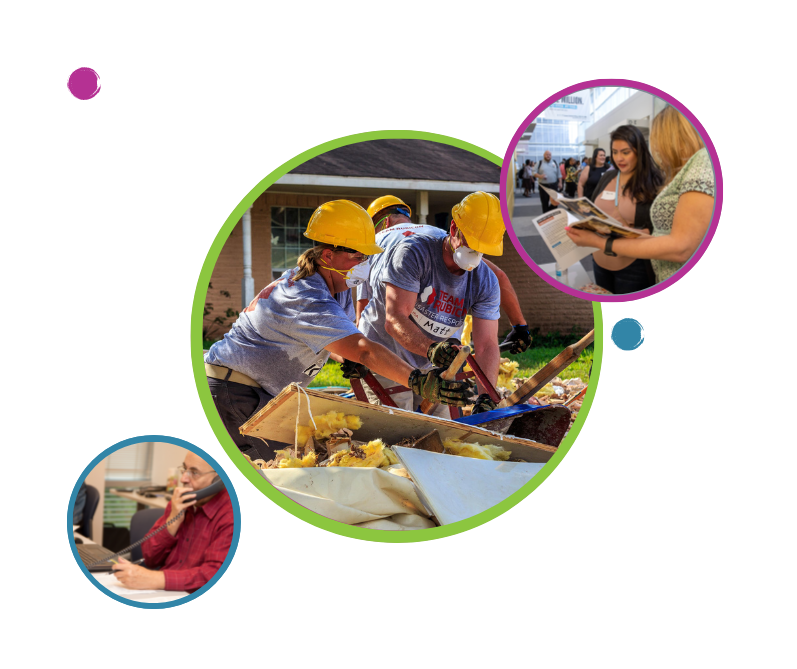 We strive to:
Provide coordinated management of the long-term recovery process.
Provide long-term recovery assistance to individuals and families affected by disasters.
Provide advocacy for Harris County residents, including those with access and functional needs.
From those we've served...
With the guidance from my disaster case manager, I have been able to secure a new mobile home, access unmet needs funding for elevation and new furniture. I did not believe I would ever fully recover from Harvey, but now I see that anything is possible! I am extremely grateful for the help my has family received.
When my pipes froze and burst in 2021 with the Winter Storm, my family huddled together under blankets in the living room praying and trying to stay warm. With the support of partners of HCLTRC, we have been able to repair our home.
After my family lost our home and belongings due to flooding, I was able to get relocation assistance and financial assistance to replace my furniture, appliances and clothing. I am so grateful for this resource.
We are proud to serve our community alongside such strong partners on the HCLTRC. Disaster recovery is long and complicated work, and this committee empowers us to do more, and to do it better and faster.
The HCLTRC has enabled Houston Habitat for Humanity to support homeowners whose homes are devastated by disaster by repairing and rebuilding their homes. To work collaboratively within Houston and Harris County to support homeowners with other nonprofit organizations ensures our families are more resilient in their recovery.
Thinking back to 2005 after Hurricane Katrina/Rita hit to present-day, the Harris County Long-Term Recovery Committee has been a trustworthy and pertinent source of information. It's a vital catalyst to accessing community resources. I'm really honored to engage with such an energetic, compassionate, and people-focused committee!
Send us an email and a member of our team will get back to you as soon as possible. Or, give us a call at
713-685-2400.